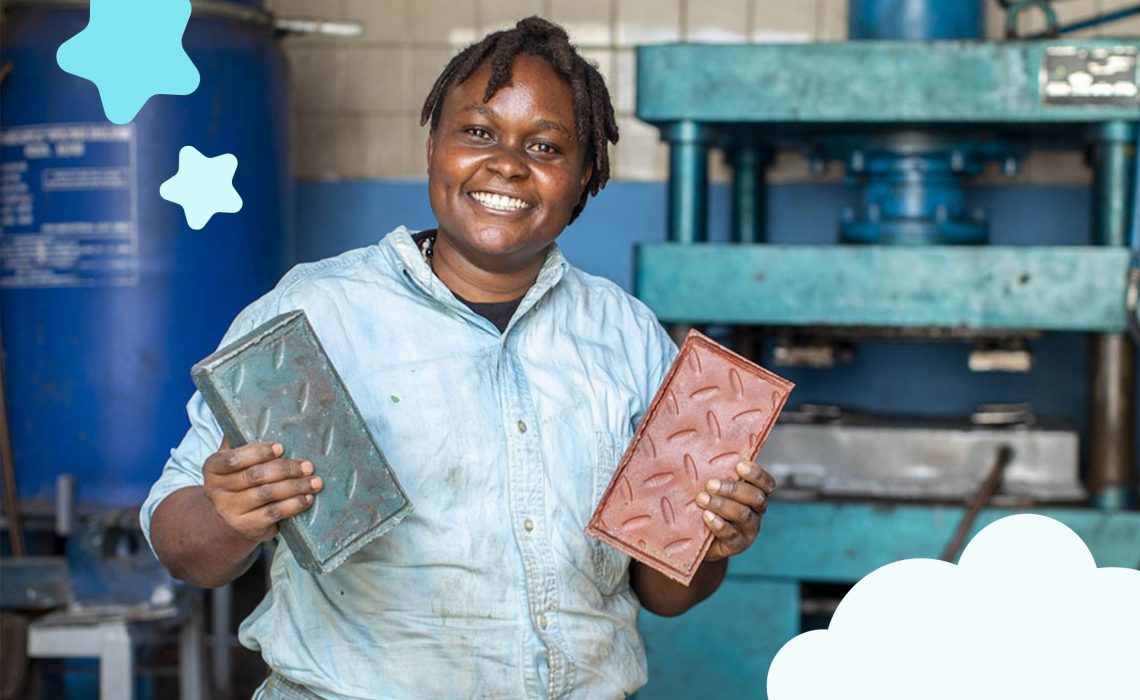 Nzambi Matee recognized two massive problems in Nairobi, Kenya.
The first was mounds of discarded plastic piled in ditches, rivers, fields, beaches, and roads. The second was an acute need for housing.
With her new start-up, she's solving both.
Bright & Brilliant
Nzambi exudes warmth. She's an animated speaker with an enthusiastic smile and clear voice. She draws you in with her subject matter expertise; the 29 year old engineer has a background in biochemistry, pure and applied physics, and material science.
As a Nairobi native, she was all too familiar with the waste problem–Kenya's capital produces over 2,400 tons of waste each day. Less than half of this plastic is recycled, the majority is littered throughout communities or dumped in the 30-acre-wide Dandora landfill.
Yet, Nzambi Matee had an idea and the courage to try it.
As she puts it, "It was time I stopped sitting [on] the sidelines and waiting for other people to do something about plastic, and let me just do something."
Gjenge Makers
In 2017 Nzambi quit her job working within Kenya's oil industry.
She set up shop in her mother's backyard and began gathering trash to inspect particles of discarded plastics. When combined with sand, plastic could create an ideal building block, Nzambi theorized.
It took her one year to select the best plastics, design an industrial grade machine, determine the sand-to-plastic ratio, and create the first perfect brick. Then she was ready to start scaling.
In 2018 Nzambi Matee built her industrial grade machine and launched Gjenge Makers, the manufacturer that "converts trash into cash!" Not only does her start-up solve pollution problems, it creates jobs in a country with a 26.3% poverty rate.
As the World Bank notes, "Matee views the creation of employment through Gjenge Makers Ltd as one of the measures through which the social enterprise completes the triple bottom line loop of planet, profits and people.
She vouches for decent incomes and is committed to multi-skilling by designing jobs that enable young employees to perform two or more traditionally separate job functions as a way to enhance their socio-economic wellbeing."
A Product Set Apart
Gjenge Makers and their sources have a win-win model. Large manufacturers can get their 'useless' post-industrial waste off their hands, recyclers can drop off post-consumer plastics, and Gjenge Makers receives its raw materials at nearly no cost.
The startup currently has the capacity to produce 1,500 paving bricks each day. These bricks are highly sought after, at a great market price, half the weight of typical concrete pavers and roughly seven times stronger!
Nzambi hopes to triple her plant's capacity within the next year. Her pavers are an affordable flooring option for impoverished roads, schools and communities.
Female entrepreneur + women in STEM + sustainability + environmentalism + affordable housing = AngeLink's cup of tea!
How Can I get Involved?
AngeLink LOVES female entrepreneurs like Nzambi! That's why we support them through hosting campaigns for women starting businesses.