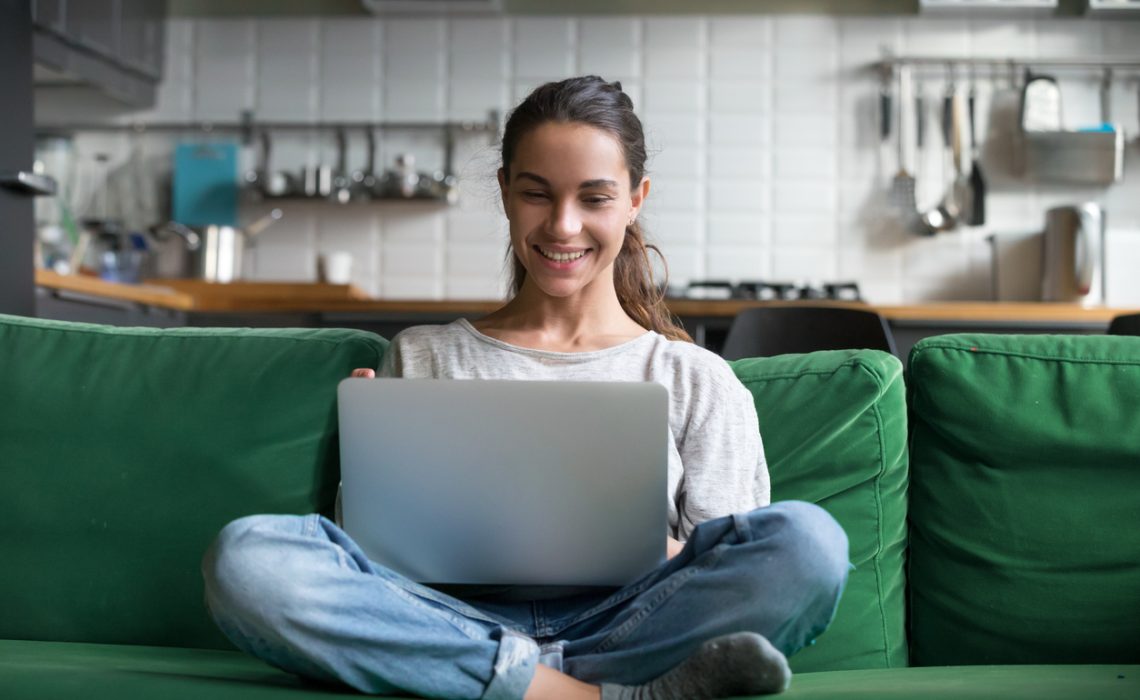 Giving Tuesday is a magical time of year when people come together to help others. With the right Giving Tuesday campaign idea, you can make a huge impact!
Email marketing is one of the Giving Tuesday best practices to maximize the success of your fundraiser. Emails are a powerful tool for fundraisers to reach potential donors. They serve as a direct line of communication, fostering a sense of connection and urgency.
A recent study by DataAxle revealed a noteworthy trend among donors' communication channels. 48% said email was their favorite method of receiving info from nonprofits.
This shows the powerful potential of emails in establishing and maintaining donor relationships. Even if you're not a nonprofit, you can still leverage email to reach potential donors.
Now, we've discussed the importance of emails. Let's explore how you can make the Giving Tuesday emails for your peer-to-peer fundraiser impactful and effective!
Breaking Down the Anatomy of an Effective Giving Tuesday Email
Knowing how to write a fundraising email can seem daunting at first. But don't worry, our experts at AngeLink are here to help!
Getting your Giving Tuesday email right is a blend of art and science. Whether you're hosting an in-person Giving Tuesday event or an online fundraiser, you'll need an email strategy.
Crafting the perfect email calls for key ingredients, similar to a recipe. Follow the guidelines below to craft a successful Giving Tuesday email.
1. Catchy Giving Tuesday Subject Lines
Giving Tuesday email subject lines are like first impressions. They're what catch the eye of your potential donors. Your subject line can determine whether recipients open your email or not.
It's crucial to craft compelling Giving Tuesday email subject lines. They should create a sense of urgency and appeal to the recipient's emotions. Remember, your subject line is the "invitation" to your email—make it count!
10 Giving Tuesday Subject Line Examples to Use
Giving Tuesday is Here – Join Us in Making a Difference!
Your Chance to Double Your Impact This Giving Tuesday!
Today Only: Your Donation Can Change Lives
Ready to Make a Difference this Giving Tuesday?
Be a Part of Something Big – Giving Tuesday is Today!
Help Us Reach Our Giving Tuesday Goal – Donate Now!
Celebrate Generosity With Us – It's Giving Tuesday
Join the Giving Tuesday Movement: Your Gift Matters
Don't Miss Your Opportunity to Give Back Today!
This Giving Tuesday, Let's Create a Better World Together!
If you take inspiration from these Giving Tuesday subject lines, make sure you tailor them to your brand!
2. Focus On Storytelling In Your Messaging
We cannot stress enough the power of storytelling in your Giving Tuesday emails. People relate to stories, and your donors are no exception. Stories evoke empathy. Empathetic individuals are more likely to donate and support your cause.
When crafting your email copy, explain the problem or need you're working to address. Be specific and paint a clear picture. Next, describe the solution your organization provides and the impact it has.
But don't stop there! Invite your potential donors to become a part of this story. Position them as heroes who can make a difference through their contributions. For instance, you could say, "With your donation, you can provide 50 school meals for children in need."
Finally, round off your email with a clear and compelling call to action. Guide your donors to the next step. It could be clicking a "Donate Now" button or visiting your website to learn more. This call to action should be easy to find and simple to understand.
Your story is powerful, but it needs the support of your donors to make a real-world impact. Let's inspire change together this Giving Tuesday!
3. Images and Videos That Grab Potential Donor's Attention
Our experts at AngeLink have noticed that pictures speak a thousand words. And videos? They can tell a whole story!
Showing people the impact of their donations can be compelling. Including photos or videos in your emails can help you connect with potential donors.
Think about it! Wouldn't it be more powerful to see a video of the community you're helping? How about images of the actual people benefiting from your work?
Visuals like these make your emails more engaging. They also build trust and authenticity. They let your donors see exactly where their money is going and the difference they're making.
So, don't be shy—add that photo of your team working in the field or a video of a beneficiary saying thank you. This Giving Tuesday, let's make every picture count. Every picture could be worth a donation!
4. Best Time to Send Giving Tuesday Email
Timing is everything when it comes to email. According to Mailchimp, the optimal time to send emails is 10 AM in each recipient's time zone.
Remember, this is not set in stone! The perfect timing can vary based on many factors, such as your audience's location and habits.
It's crucial to test and adjust based on what works best for your audience. So, don't forget to keep track of your email metrics.
Giving Tuesday Email Examples that Work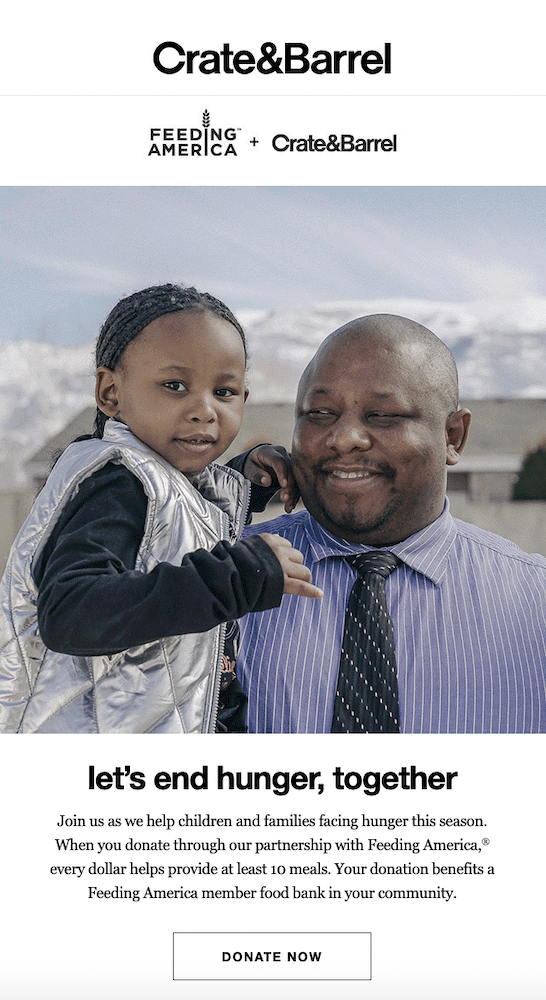 1. Crate & Barrel
Subject line: Let's end hunger together this Giving Tuesday.
This Crate & Barrel campaign is an excellent example of a Giving Tuesday email. The subject line is clear and compelling. It invites the reader to join in a collective effort to end hunger.
This sense of community and shared purpose is powerful. The email explains that every dollar donated provides at least 10 meals through Feeding America®. This detail allows the potential donor to understand the impact of their donation.
In other words, they'll be more likely to contribute. The campaign is localized. It indicates that the donation will benefit a food bank in the donor's community. This personal connection can increase the donor's motivation to give.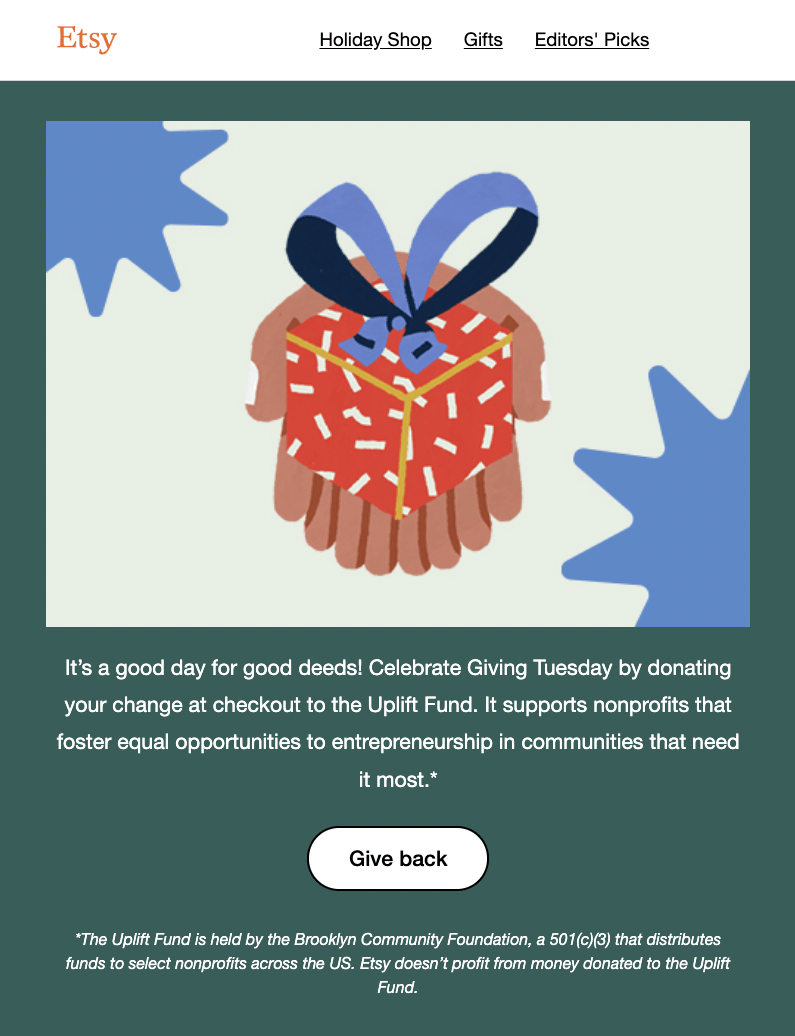 2. Etsy
Subject line: Spend Giving Tuesday with us
Etsy's Giving Tuesday email is another prime example of a successful campaign. The subject line itself is catchy and inviting. It offers a sense of urgency and excitement, enticing recipients to open the email.
Once opened, the email invites the reader to donate "change" at checkout to the Uplift Fund. This approach is smart! It integrates the act of giving into the purchasing process. Etsy makes it easy and seamless for customers to contribute.
The email also provides information about the cause they are supporting. This creates a sense of trust and transparency. Trustworthiness increases the likelihood of the reader making a donation.
Etsy also makes it clear that it doesn't profit from the donations. This reinforces trust even further. The call to action, "Give back," is simple, clear, and direct. It guides readers onto the next step. Etsy does a great job of inspiring readers to act while making the process easy.
Giving Tuesday Email Templates You Can Copy
Now that we've reviewed a couple of Giving Tuesday email examples, we'll move on to something you can use.
Let's explore some effective Giving Tuesday email templates. You can also research Giving Tuesday social media templates if you want to make your marketing efforts even easier!
Save the Date Email
Subject line: Mark Your Calendar for [date]—Giving Tuesday is Coming!
Hello [Recipient's Name],
We are excited to announce that [Your Organization's Name] is participating in this year's Giving Tuesday on [date].
Our goal is to raise [$X fundraising goal] to support [fundraiser name], but we can't do it without your help!
We believe in the power of community, and we know that every little bit helps. Keep an eye out for more details about our Giving Tuesday campaign. Together, we can make a difference!
Best,
[Your Name]
Giving Tuesday
Subject line: Join Us This Giving Tuesday and Help [Cause Name] Reach [Fundraising Goal]
Hello [Recipient's Name],
We're writing to you because we believe in the power of [Cause Name] and we know you do too. This Giving Tuesday, we're on a mission to raise [$X Fundraising Goal] to help [fundraiser name].
But, we can't do it without your help. Your contribution, no matter the size, can create a real difference and help us reach our goal. Can we count on you to donate [$X Suggested Donation Amount] this Giving Tuesday?
We'll keep you updated on our progress. Remember, every penny counts, and your donation will take us one step closer to our goal. Thank you for your continued support.
Best,
[Your Name]
Giving Tuesday Thank You Email
Subject line: A Heartfelt Thank You from [Your Organization's Name], [Recipient's Name]!
Hello [Recipient's Name],
We wanted to take a moment to extend our deepest gratitude for your contribution this Giving Tuesday. Your generous donation of [$X Donation Amount] is already making a difference in our [Fundraiser Name] campaign.
We are thrilled to inform you that, with your help, we've managed to raise [$X Amount Raised] toward our [$X Fundraising Goal]. This achievement would not have been possible without your support.
Your generosity goes beyond the monetary gift—it signals your faith in our mission and your willingness to be a part of it. We thank you from the bottom of our hearts and promise to keep you updated on the progress of the [Fundraiser Name].
Once again, thank you for standing with us. We are grateful for donors like you who make our work possible.
Best,
[Your Name]
Who to Send Giving Tuesday Emails
Giving Tuesday emails aren't just for your regular donor list. They're your secret weapon to reach more people and create a real change! Don't hesitate to send these emails to your friends, family, and colleagues. You'll be surprised how many people are willing to support a cause they care about.
Want to go the extra mile? Reach out to your local Chamber of Commerce or other community groups. Ask them to include information about your Giving Tuesday fundraiser in their newsletters. The more people who know about your fundraiser, the bigger the impact you can make!
A Well-Crafted Email Can Double Your Donations on Giving Tuesday
Giving Tuesday is a golden opportunity to make a positive change in the world. Through tailored Giving Tuesday emails, you can raise awareness for a cause you care about. It's all about telling people where and how to give on Giving Tuesday!
But how can you get your fundraiser set up in the first place? That's where AngeLink comes in! We are a women-powered crowdfunding platform that's ready to help your fundraiser succeed.
We offer a free, user-friendly interface loaded with unique features like:
Achievement badges
Social media sharing capabilities
Seasonal emojis
Printable QR-coded flyers for immediate donations
In our Fundraising with Trust™️ initiative, we review all fundraisers for fraud protection. We offer 24/7 customer love support, making us the perfect choice for your Giving Tuesday fundraiser.
By choosing AngeLink, you'll reach people faster. You'll also empower them to start their own fundraisers. This will create a ripple effect of generosity.
Ready to get started? Make your next Giving Tuesday the most successful one yet with AngeLink!