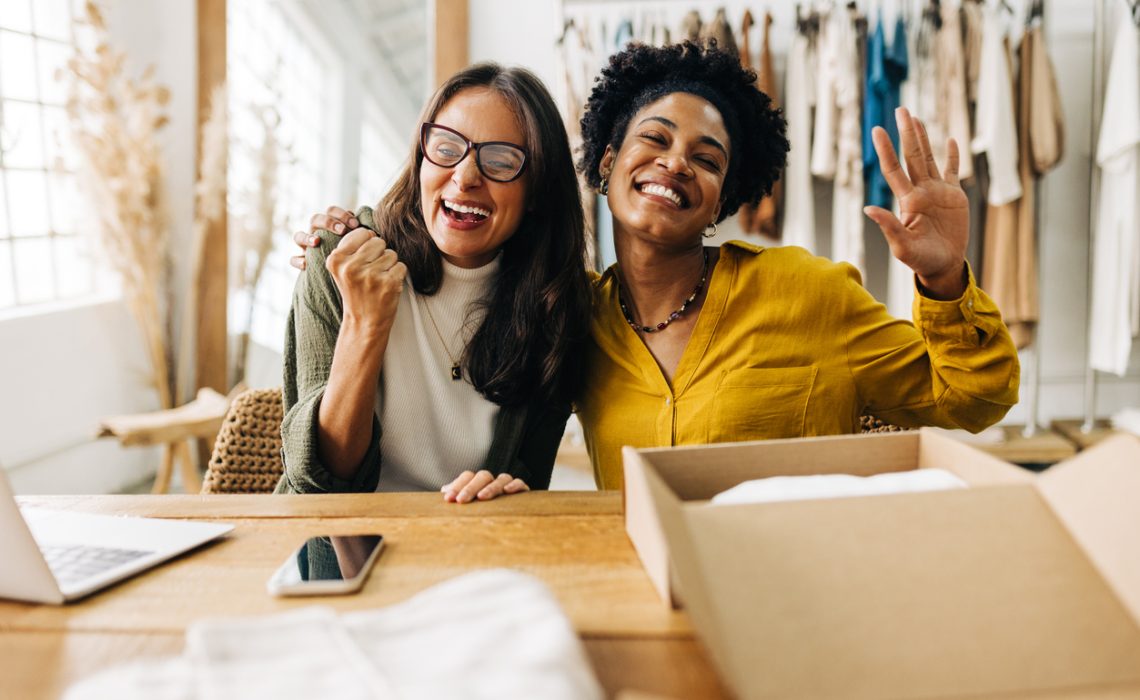 Why is it crucial to support woman-owned businesses? Well, a better question to ask is: why not?
Today, we're going to share how to support women in business. But first, let's go over why this is important in the first place. Women-led businesses are on the rise. More women are taking ownership of their paths in the business world. But women are still facing a unique set of challenges. Here are some startling stats you should pay attention to:
QuickBooks reported that female-led businesses continue to face hurdles in acquiring funding. The report indicated that only 2% of all venture capital funding went to women-owned businesses.
SimplyBusiness revealed that female business owners still face gender bias and inequality. The study showed that 1/3 of women entrepreneurs had encountered sexism.
Having a solid network of support is crucial for business success. It's alarming to learn from Inc. that almost half of women entrepreneurs believe accessible mentors and advisors are scarce. They say this hinders their professional development.
As you can see, these challenges put female-led businesses in a vulnerable position. Learning how to start a woman-owned business is hard enough. Sustaining one is a whole different ball game!
That's why it's so critical to support female entrepreneurs. There are many ways to do it, too! We're about to share five ways you can support women in business. But first, let's talk about why you should contribute to female entrepreneurship.
Why Support Women In Business?
Empowering women in business is vital. It fosters innovation, diversity, and inclusivity in the economic landscape. Women entrepreneurs bring unique perspectives and solutions to various industries. They enrich the market with their creativity and resilience. Their active participation contributes to a more balanced economy. It fosters gender equality and drives sustainable economic growth.
Key Benefits of Supporting Female Entrepreneurship
Women are playing a bigger role in the economy. Here are some of the reasons we should support them:
Closing the Gender Gap: We can help to close the gender gap in business. This creates a more balanced and fair business environment.
Encouraging Diversity and Inclusion: Women bring unique perspectives and experiences to entrepreneurship. They bring innovative solutions and ideas to the table.
Boosting Economic Growth: Supporting female entrepreneurs can stimulate economic growth and job creation. This leads to a more robust and dynamic economy.
Empowering Women in Business: Entrepreneurship can be a powerful tool for empowering women. It can give them financial independence and the ability to control their futures.
Creating Role Models: Successful female entrepreneurs are role models for future generations. They inspire more women to venture into entrepreneurship and break down gender barriers.
When we acknowledge the challenges women face, we can help everyone succeed. Next, we're going to share how to support female entrepreneurs.
5 Ways to Support Women In Business
Now, you understand why it's important to support female entrepreneurs. Here are five ways to contribute to them:
1. Shop at Women-Owned Businesses
We encourage everyone to support women-owned businesses. You can buy their products or services. This drives the economy forward. It also plays a significant role in promoting gender equality in the business world. Your choice can make a difference, so let's stand together to support women in business.
2. Celebrate and Promote Women-Owned Businesses
Do you have a favorite woman-led company? Share your experiences with friends and family!
Word of mouth is a powerful tool that can help businesses grow. Consider leaving positive reviews online, which helps the business gain visibility. It also encourages customers to trust their products and services.
Don't forget the power of social media! A simple share or post about the business can reach hundreds, even thousands, of people. By doing this, we can uplift and amplify women's voices in business. This contributes to a more diverse and inclusive economy.
3. Collaborate With Women-Owned Businesses
Still don't know how to support women in business? Try collaborating with them!
If you're organizing a community event, consider partnering with a woman-owned business. You can include women in your marketing campaigns or invite them to be part of a panel discussion. This can foster greater inclusivity and diversity.
We should strive to create spaces where women entrepreneurs can shine. In doing so, we enrich our communities and promote a more balanced business landscape.
4. Help Fund A New Women-Owned Business Venture
Securing capital and funding remains a significant hurdle for many women entrepreneurs. Women-owned businesses receive only a fraction of venture capital investment money.
Women often face market failures, such as information asymmetries and financing gaps. Public policy can help address this discrepancy, but will it?
Lack of financing limits women's ability to establish, expand, and grow their businesses. This often prevents them from tapping into higher-value areas of their respective industries.
It's essential that we work towards improving access to funding for women in business. We must ensure they have the necessary resources to succeed.
To support women in business, we must:
Address the systemic barriers that limit their access to capital
Promote policies that provide equal financial opportunities
Foster a culture that values and supports women entrepreneurs
Want to know what you can do today to help? Donate to a business fundraiser on a site like AngeLink. By doing so, you can support the businesses of women entrepreneurs.
Here at AngeLink, we have Angel Grants For Women in Business. We award $1,000 Angel Grants to outstanding women entrepreneurs. These awardees use their grants to improve their businesses, organizations, or charities.
We believe in women's potential to drive economic growth. That's why we started our Angel Grants program in the first place!
5. Have Business Experience? Become A Mentor to Other Women
Your knowledge, insights, and experiences are invaluable resources. They can benefit aspiring female entrepreneurs.
Mentoring is more than sharing advice. By becoming a mentor, you can help shape the future of women in business.
Here are some organizations with mentorship programs that focus on supporting women:
The International Association of Women (IAW) provides a robust mentoring program. It aims to foster professional growth among ambitious women. This initiative is central to IAW's mission to Connect, Inspire, and Lead. Experienced professionals serve as mentors, offering guidance and development opportunities to mentees.
Million Women Mentors (MWM): is a pioneering initiative spearheaded by STEMconnector. Mentoring is one of the central aspects of the organization. MWM hopes to inspire more women and girls to venture into STEM fields.
Women's Mentoring Network focuses on enhancing workforce skills. These include improving financial understanding and boosting digital literacy. The network offers comprehensive workshops and personalized mentoring sessions. These assist women in reaching their career objectives. They strive to equip women with the necessary tools to excel in their chosen fields.
Remember, your journey and success can inspire others in their entrepreneurial pursuits. So, don't hesitate—take the leap and become a mentor today!
Help Close the Gender Gap By Empowering Women In Business
We are living in a time of unprecedented progress in gender equality. But we still have more work to do, especially when it comes to women-owned businesses. As a society, we must create more nurturing environments for women entrepreneurs. We need to provide them with the resources they need to succeed.
Now, you know how to support female entrepreneurs. We hope you feel inspired by the ideas we shared in this article. Here at AngeLink, we're all about supporting our community!
Let's all play our part to close the gender gap and support women in business. Together, we can make a real difference!