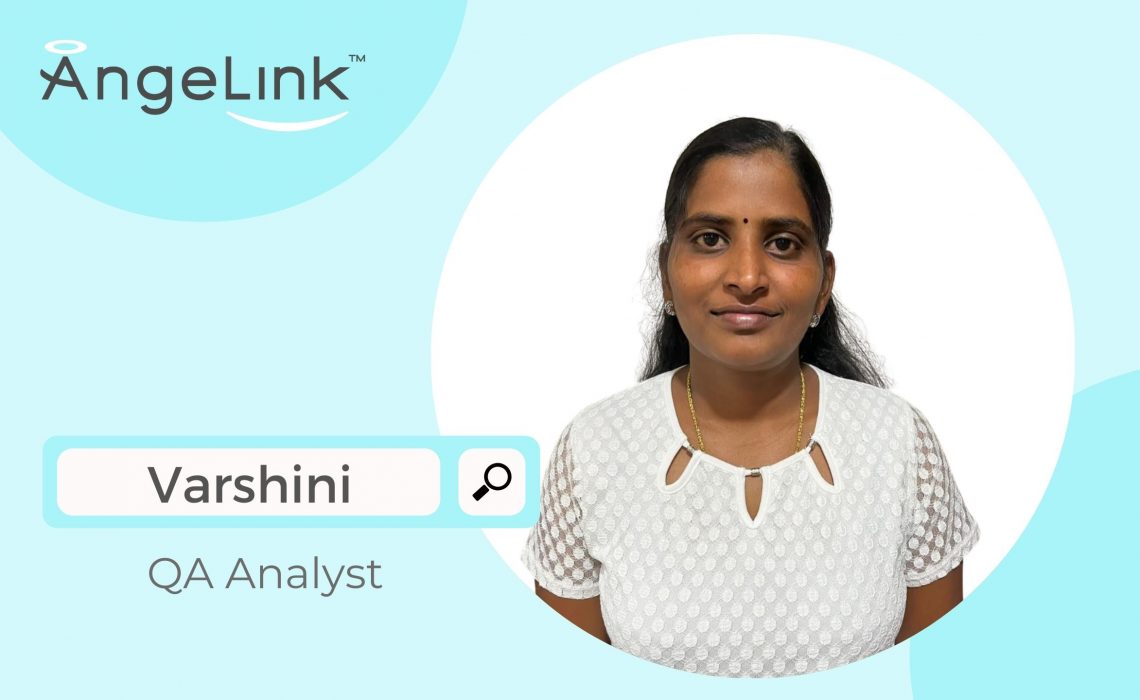 "For many women, it's very hard to find time for themselves, especially if they have a family. More training, support, and free courses will encourage them to restart their careers."
Here at AngeLink, we always put our end users first. Knowing that our product needs to exceed the user's expectations, we spend a lot of time testing and improving every release. Thanks to Varshini and other hard-working software testers at AngeLink, we are confident that every new feature works as expected.
Before you came to AngeLink, what was your background?
I'm originally from India, but I moved to the US around 9 years ago. Back in India, I got a bachelor's degree in Engineering and was working as a QA Tester as well, so I already had some experience before coming here.
Why AngeLink?
I think I was very lucky to find AngeLink. I love my job and learn lots of new things almost daily. Before AngeLink, I didn't work much with tools like JIRA, Slack, and Confluence; I also didn't know a lot about Agile. Now, I'm way more confident in my skills and my ability to manage projects. I'm also proud to work for a company powered and created by women.
Can you share a little bit about what it is that you do and what a typical day for you is like?
As a bug tester, I do a lot of manual testing at AngeLink trying to find and report bugs. Our team is testing both web and mobile applications. You know, manual testing can be repetitive and time-consuming at times, so I'm trying to learn other technologies as well. Currently, I'm learning how to use Selenium, a popular automated testing framework for web applications across different browsers and platforms. Because manual testing requires a lot of time and effort, I really enjoy working with tools like Selenium.
What tools do you use daily at your job? Which one is your favorite and why?
I think I use JIRA the most. We use that app for almost everything like writing and executing test cases, reporting bugs, etc. For internal documentation, we use Confluence. I love how these two apps seamlessly work together. When it comes to testing, I mostly test Android devices or use a tool called Browserstack to test the builds specifically for iOS devices. Oh, and we use Slack and Zoom to communicate with the team.
What is one piece of advice you can give women who are thinking about starting a career in QA?
It's extremely important to completely understand the requirements to test applications properly from a user perspective. So, before you start testing anything, focus on the requirements, user stories, and test cases. Knowing the expectations of end-users is extremely helpful!
What's been the greatest challenge in your professional career?
I would say my greatest challenge is to stay on top of industry trends and new technologies. It's a fast-paced world, so the tools we are working with are constantly evolving.
We couldn't agree more! And what's the most exciting part of your job?
Mm… I love finding bugs, honestly. It's almost like a game!
Why do you think there are still so few females in the technology sector and what can we do to get more women into technology?
I feel like there should be more resources and platforms for women who want to start a career in tech. For many women, it's very hard to find time for themselves, especially if they have a family. More training, support, and free courses will encourage them to restart their careers.
And finally, what is it like to be a woman working in technology for you?
It can be quite challenging at times to manage all the household work and find time for myself. On the plus side, it's a very rewarding career because I'm always surrounded by smart, like-minded women.