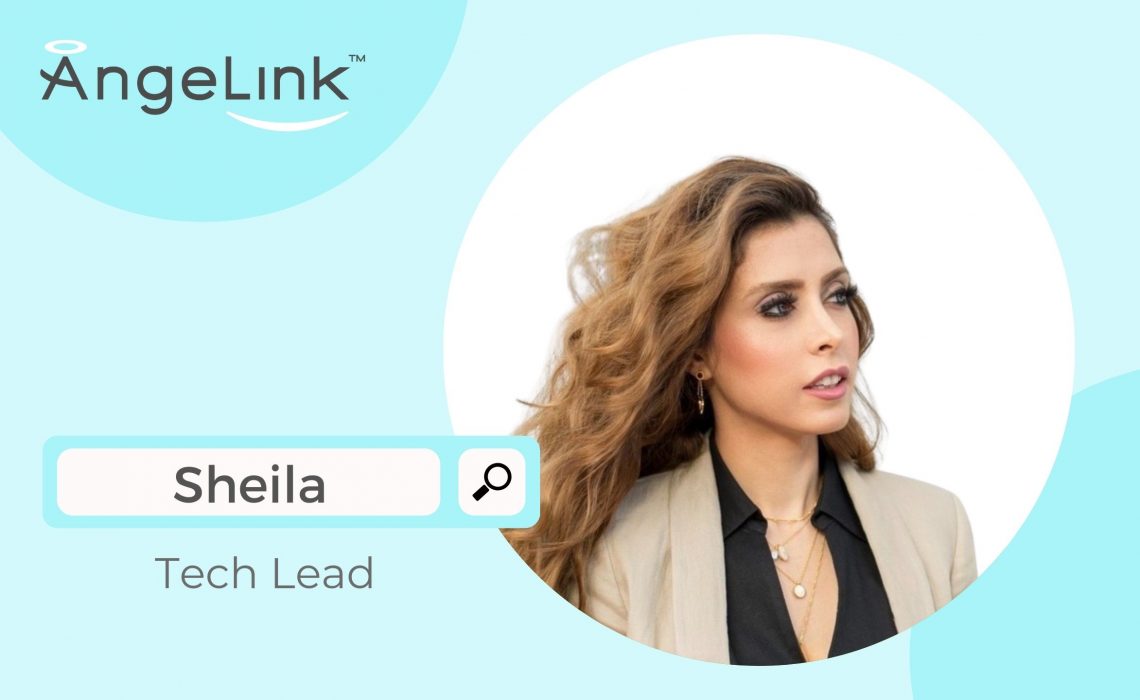 "If you are ready for a challenge and ready for hard work, there is nothing that you cannot accomplish."
In this interview, one of AngeLink's amazing tech leads, Sheila, joins us to share how she became a developer (before it was cool) and worked for some of the world's biggest tech companies! Keep scrolling to learn more about her impressive background (this girl has a Ph.D. Degree in AI and 12 years of experience!) and her advice to women getting started in the industry.
Hi Sheila! Can you tell us a little bit about yourself?
Sure! I was born in the Middle East but moved to Europe when I was 19 years old. I got my bachelor's and master's degrees in Software Engineering in Sweden and then moved to the U.S. to do my Ph.D. program in Artificial Intelligence in California. It was quite a ride! All in all, I've been working as a lead system architect, system designer, and team lead for almost 12 years. Among the companies I worked for are Willis Towers Watson and Hewlett Packard Enterprise.
Oh wow, impressive! What influenced you to start a career in tech?
Probably my parents. They are both engineers, so I was always encouraged to work on my problem-solving, entrepreneurial, and engineering skills. From an early age, I was surrounded by bright, motivated people…so I wanted to be just like them. Moreover, programming was very hot back then. It was a new and very exciting field! I think programming was–and still is–one of the best ways to make an impact and solve some of the world's biggest problems.
Agreed! So, why AngeLink?
I love the idea of AngeLink and how it empowers women. I've seen a lot of challenges that females are facing in this industry… the world needs more companies like AngeLink. I think it's a great proof of concept that females can actually have a big impact not only in technology but in other areas as well.
What it is that you do at AngeLink?
I'm a tech lead of a development team. I oversee the entire engineering team, including two offshore teams. I'm managing the development process and helping implement the best practices.
What programming languages do you know and use? What programming languages are used at AngeLink?
Oh, I know quite a few of them. Back in the day, I started to learn C, then C#, and Java. More recently, I started work with Node.js, React, and React Native. At AngeLink, we are mostly using React Native and PHP to some extent.
What would you recommend to a woman who's thinking about starting a career in tech?
It's definitely not easy, but I would encourage anyone, be it a man or a woman, to try coding. And if you are ready for a challenge and ready for hard work, there is nothing that you cannot accomplish.
Well said… is there anything you wish you knew before starting your career?
Well, I started my career with a little bit of hesitation because everything was still fairly new. It was an unknown world… and I had no idea what to expect! Studying software engineering was also very challenging at first: I remember I used to sleep on campus sometimes. Even later, when I became a junior developer, there were a lot of long hours and hard work. It was hard to stay consistent and motivated and I wish I knew all the benefits of working in tech back then. I think it would be very helpful and encouraging.
What has been the greatest challenge in your professional career?
Ah, the greatest challenge. I would say in this industry there are always two sides – the business side and the technology side. Finding the balance can be a bit challenging at times.