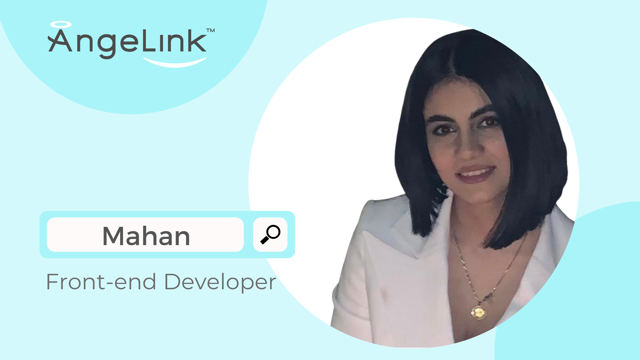 Not everyone who ended up being a developer dreamt about a tech career. Meet our new front-end developer Mahan who used to dream of becoming a professional basketball player!

Today, she is a professional React front-end developer with 8 years of experience. We talked to Mahan to learn more about her background, her coding journey, and what she is working on today. So, let's dive in!
Hi! Can you share a little bit about yourself?
I'm originally from Istanbul, Turkey. I'm a React and React native developer meaning that I can work on developing both web and iOS and Android applications. I've been working as a developer for almost 7 years now. I've tried learning different languages and technologies but quickly discovered that I like working on the client-facing side of the application more. Around that time, I discovered React, a JavaScript library for building user interfaces created by Facebook, and immediately fell in love with it.
What it is that you do and what is a typical day for you like? What are you currently working on?
I work on both the web application and mobile app. Most of the time, I work on new features, but I also do bug fixes when needed. So far, I've worked on the homepage quite a lot and on public campaigns.
What other tools and technologies are you using as a front-end developer?
Since I mostly work with React and React Native, I also use Redux a lot. It's a popular open-source JavaScript library for managing the state of a web application, widely used with React. For writing code, I prefer to use Visual Studio Code.
Did you always know that working in technology was what you wanted to do with your life?
No, not really. I've never imagined I'd be a developer until my final years of university. A lot of people around me were starting careers in tech, so it made me curious. I'm glad I gave it a try! Before that, I was dreaming about becoming a professional WNBA player. Today, basketball is just my hobby.
What's the most exciting thing about your job?
Learning new things and facing new challenges are two things I enjoy the most. I'm also excited to find new ways to solve problems.
Before you came to AngeLink, what was your background?
I've worked on quite a few mobile apps both for iOS and Android. I also have experience integrating various third-party applications. For one of the applications I was working on, I integrated PayPal to process payments.
How do you think being a woman affects your experience in the tech world?
Being a woman in tech is quite challenging, to be honest. I feel like the situation is getting better, but we are not quite there yet. I'm happy to see so many girls learning to code and entering the industry!