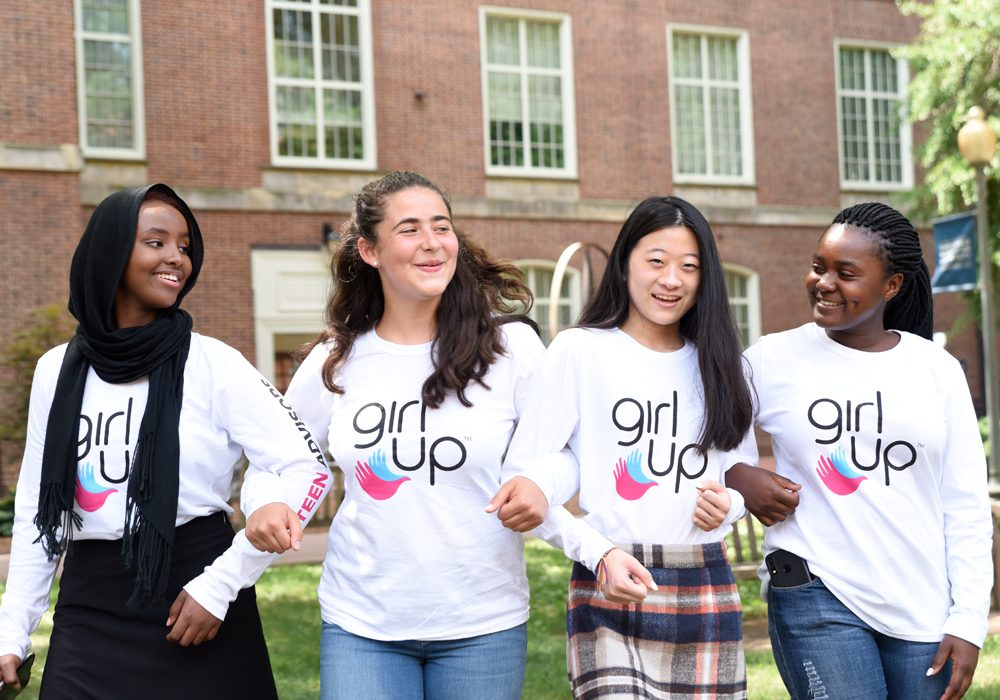 AngeLink is partnering with Girl Up, the United Nations Foundation branch that supports girls globally, to fundraise $50,000 for their 16 Days of Activism Against Gender-Based Violence Campaign.
The 16 Days of Activism Against Gender-Based Violence (GBV)
The annual campaign begins on November 25th, International Day for the Elimination of Violence Against Women, and ends on December 10th, Human Rights Day.
It was founded in 1991 by members of the Women's Global Leadership Institute, and continues to be spearheaded by the Women's Global Leadership Center.
Several branches of the United Nations and United Nations Foundation have joined the campaign by creating parallel initiatives, which also seek to eliminate gender-based violence.
In 2008, United Nations Women launched 'UNiTE by 2030 to End Violence against Women' and in years since, Girl Up has fundraised and crafted their own curriculum for the cause:
"As advocates for the rights, skills, and opportunities of every girl, everywhere, Girl Up leaders are developing girl-led solutions to combat gender-based violence in their own lives and communities– from addressing campus sexual assault through advocacy and the creation of safe spaces, to developing tech solutions that build community awareness."
This is the first year that Girl Up is using AngeLink as the official fundraising platform for their 16 Days of Activism Campaigns.
The Partnership Between Girl Up and AngeLink
Not only will AngeLink host the primary Girl Up Campaign, we are also matching all donations up to $25,000.
As a women-led company, with a female CEO, female CFO, female CTO, female Head of Growth, and 90% female team, AngeLink supports the rights of women and girls everywhere and is eager to see all women thrive. For this reason, partnering with Girl Up to support Activism Against GBV was an easy decision.
A key element to our partnership is youth involvement. In addition to the primary campaign, Girl Up is inviting their 800+ student-led Girl Up Clubs across the country to launch their own fundraisers for the 16 Days of Activism Against GBV.
Each student-led Club has been challenged to fundraise $500 for the cause. Our team at AngeLink has provided several Crowdfunding How-To resources, custom made for teenagers, to aid the students in their efforts. With engaging fundraising ideas (think: bake sales, 5k runs, car washes and dance-a-thons) and tips for sharing their campaign on social media, students will be well equipped to reach and exceed their goals.
AngeLink is also offering three $1,000 awards to further incentivize Girl Up Club members to fundraise. One will be awarded to the Club with the greatest number of individual donors, another to those with the highest amount raised, and a third to the Club with the most creative fundraising effort.
How To Get Involved
The most effective way to join the partnership and bring change and improve the lives of millions of girls and women suffering from GBV is to donate directly to the campaign: 'Girl Up's 16 Days of Activism Against GBV Campaign'. Each donation–even $10–will bring us closer to helping women around the world to thrive.
The next best way to help is by knowing statistics and facts about gender-based violence and sharing them with others to raise awareness. Here are three facts from UN Women:
One in three women will experience gender-based violence in her lifetime
Each year, 12 million girls worldwide are subjected to child marriage
Two-hundred million girls and women worldwide have undergone female genital mutilation
And finally, you can use your social media accounts to support the cause! Start by following both Girl Up and AngeLink on Facebook, Instagram, LinkedIn and Twitter to learn more information about GBV throughout the next two weeks. Then create your own post with a link to the main campaign and several statistics about GBV to invite friends and family to learn more about the cause and donate.
Article Summary
AngeLink and Girl Up are working together to solve an issue that exists in every country and plagues millions and millions of women and girls worldwide. The $25,000 raised will be doubled by AngeLink and then used by the United Nations Foundation to develop girl-led solutions that combat GBV. High school students will help lead the charge, and you can pitch in too by donating to the Girl Up's 16 Days of Activism Against GBV Campaign.
Thank you for helping us build a brighter and more equitable future, where every girl and every woman has the opportunity to rise to her fullest potential.