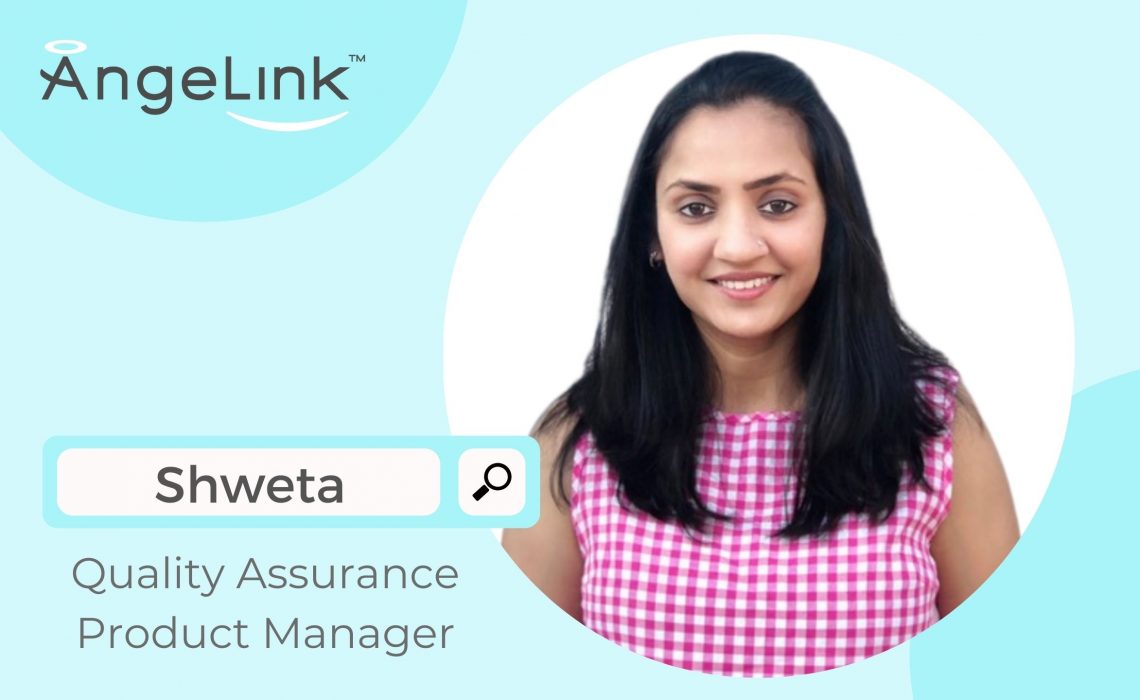 This week we are talking with Shweta, the inspiring product manager and QA team leader at AngeLink. Shweta will tell us about her journey, the QA team she manages as well as share her favorite tech hacks, tools, and insights.
Q: Can you tell us a little bit about yourself?
A: I'm originally from India. I have a master's degree in physical therapy and worked in healthcare before moving to the U.S. Here, I realized that I wanted to join the IT sector. I'm mostly self-taught but I took a lot of online courses. My husband, who is also a software developer, helped me immensely during that time. I've been working as a product manager and software quality engineer for the past 4 years.
Q: That's great to hear! Can you share a little bit about what it is that you do and what a typical day for you is like?
A: Since we are still a startup, every day is different. To be honest, a lot of us have to wear many different hats at times. At first, I was mostly doing product management and project planning. Gradually, I became a QA team leader. We have three QA testers who report to me directly. My responsibility is to create stories in Jira and internal documentation in Confluence for them as well as approve and sign off on the quality and performance of every software release.
Q: Do you do manual testing, automation testing, or both?
A: Right now, while the product is still growing and evolving, we mostly test things manually. But we do plan to add automated testing to the mix as soon as we have more things to test!
Q: You mentioned Jira and Confluence as your frequently used tools. Are there any other tools that you use to do your job?
A: Sure! We use Slack to communicate with the team. Also, since we are working on a mobile-first product, we heavily use another great tool called BrowserStack. It's a cloud web and mobile testing platform that allows us to test the website and mobile applications across all popular browsers, operating systems, and real mobile devices. This way, we don't need physical devices to make sure that the new features will be compatible with all platforms.
Q: Could you share one tech hack that helps you to do your job?
A: Integrating Slack with other apps like Confluence or Jira will save you a lot of time! I love how these three applications are connected, so every time someone mentions me or leaves a comment on a Jira ticket, I get a notification. It's also super easy to create new Jira tasks, leave comments, or assign tickets to other team members directly from Slack!
Q: What's the most exciting thing about your job?
A: I love being a part of something bigger, learning new things almost daily, and working with so many like-minded females. All in all, it's a fun ride and I enjoy every minute of it. Also, I can clearly see how I'm growing as a developer, becoming more confident in my skills. When I became a QA team leader, I was very pleased to know that Gerry and others believed in me and my ability to lead a team.
Q: What is your biggest achievement at AngeLink?
A: I think the work I do helps to keep things organized and keeps us all on track. I create manual test plans and test cases using Jira, create internal documentation for all of us to use, create agile user stories, assign tasks, make sure that everything gets done on time and works as expected.
Q: We all know that it's a very male-dominated industry so I'm curious to hear how you feel about it.
A: Even though there is a higher percentage of women working in the tech industry nowadays, I still feel like it's a challenging journey. You need to work hard every day just to fit in. It's the sad truth but we have to work harder every time men are around just to prove ourselves.
Q: What would you recommend to a woman who is thinking about starting a career in tech?
A: Don't lose your confidence and keep reaching new heights. After all, it's going to be impossible for others to believe in you if you don't believe in yourself.