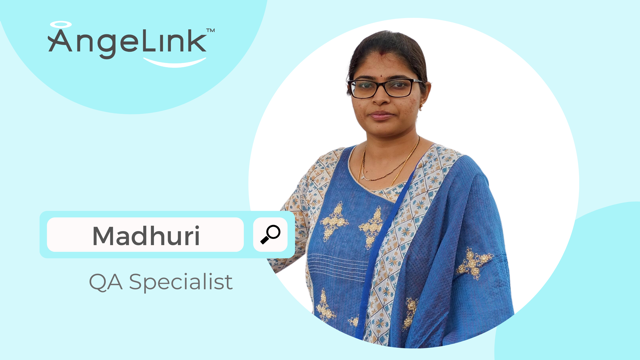 At AngeLink, we are blessed with a rockstar team of QA testers and analysts who work hard to ensure that every release of our web and mobile applications is bug-free. Moreover, our QA team is constantly growing!
Madhuri is one of our newest team members who recently joined AngeLink as a QA Specialist. She comes with a solid computer science background, and she will mainly focus her efforts on testing new releases for iOS, Android, and our web application.
How did you find out about AngeLink, and what made you excited to apply?
I have been working as a QA specialist for 8 years now. I found AngeLink online and the job description made it obvious it was something worth pursuing. Once I started the interview process, I became even more enthusiastic about this opportunity. I'm glad I joined AngeLink's QA team because everyone is so helpful and welcoming.
Can you share a little bit about what it is that you do and what a typical day for you is like?
Right now, I mostly test the AngeLink app on Android. Before, I used to test the web application along with the new iOS releases. We have a big QA team so we help each other and test the versions that currently need to be tested. I usually start working by writing the test cases based on the tasks we discussed during the previous meetings. Frequently, we work together with other girls to take ownership of the tickets and design the test cases. After the test cases are ready, we upload them into the Xray tool.
Is it considered to be manual or automated testing?
It's mostly manual testing, but tools like Xray from Atlassian help us a lot to streamline the entire process. Before, we used to keep all our test cases in Google Sheets and now we use this convenient test case management tool to simplify our work.
Did you always know that working in technology was what you wanted to do?
Yes…kind of! I was a bit confused at first, but software development is a very popular career path. I spent some time exploring various options, but quickly realized that software testing is a great option for me because I like to break things! Also, there is always something new to learn in this field and this is what I love about it.
How did you start your career?
I learned the basics online, but most of what I know I learned from my fellow team members at my first job.
What do you like the most about your job?
Diversity! Also, I love the idea of the app. I love working on a crowdfunding platform created by women and for women.
What would you recommend to a woman who is thinking about starting a career in QA?
Before going or starting anything, do a little bit of background work to figure out that it is exactly what you are looking for. You should never be uncomfortable or out of your comfort zone.