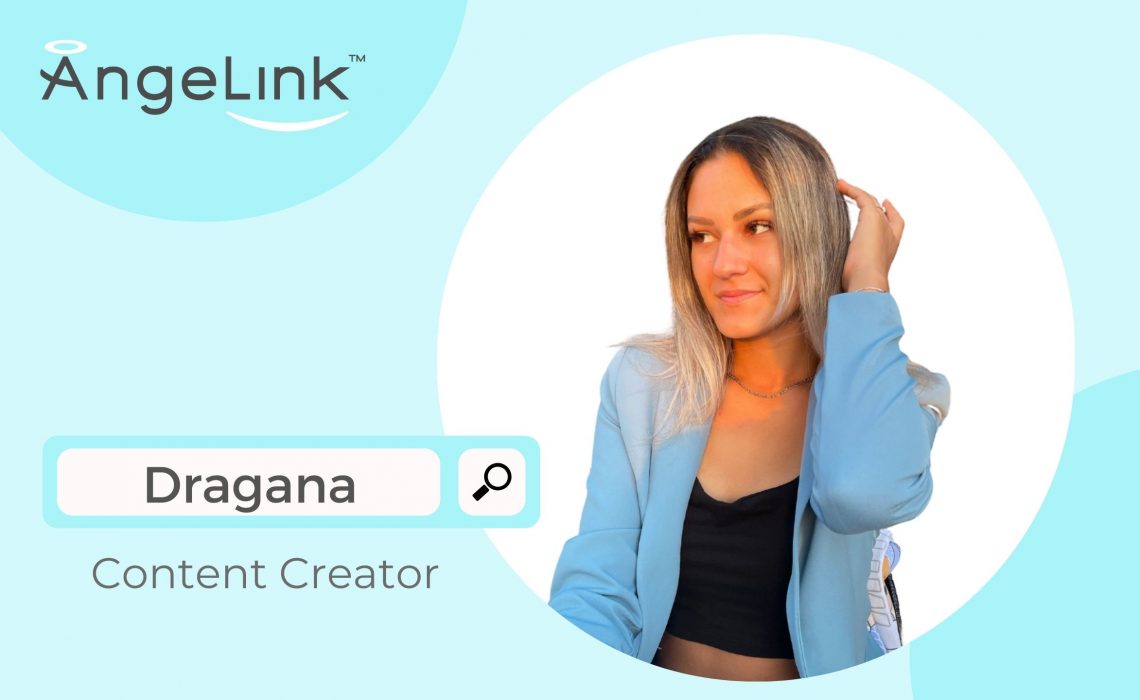 You may be surprised, but one of the best career paths for a creative person nowadays is tech. Are you curious to learn more? One of AngeLink's rockstar content creators – Dragana – joins us today to talk about her journey and share her unique perspective on design careers in the tech world.
Q: Can you tell us a little bit about yourself?
A: Sure! I'm originally from North Macedonia. I've been working as a social media manager and content creator for the past three years. As a content creator, my main goal is to help AngeLink grow and drive brand awareness using basic growth strategies.
Q: What influenced you to start a career in graphic design?
A: It all started a few years ago when I was helping one of my friends. I was creating a few pictures for their Instagram account every week when I realized that I really like doing it. I started to learn about graphic design tools like Canva and Photoshop and practice my skills regularly. Pretty soon, I've found my first clients online; one of them was AngeLink.
Q: What did you like about AngeLink?
A: I've been working at AngeLink for almost a year now, and I love every minute of it. This company gave me a lot of creative freedom that I craved. I just love working with a group of like-minded women and see how the work I do helps us all to move forward. For me, working at AngeLink is an amazing opportunity not only to express my creativity and put my emotions and words into a piece of art, but also to support change. Companies like AngeLink have a lot of potential to make the world a better place for all of us.
Q: What platforms do you create content for?
A: My favorite platform is Instagram, but I also create digital content for Pinterest, LinkedIn, and Facebook.
Q: How do you stay up to date on graphic design trends?
A: I love looking at what others create and thinking about the ways I can improve their designs. In my opinion, it's crucial for a graphic designer to stay current and learn new things because the industry is constantly evolving. I learn a lot about design and typography online, especially on YouTube.
Q: Could you share one hack that helps you to do your job?
A: You won't always be inspired to create, but there are ways to overcome this. Personally, I follow a lot of other creators and designers. Even when I don't feel like working, their designs on various platforms inspire me to keep going. Also, I never know what is going to inspire me to create. It might even be a story or a conversation with a friend. The most important part is to always look for inspiration and try new ways to do things.
Q: What would you recommend to a woman who is thinking about starting a career in graphic design?
A: Always value your work and don't lower your price just to find more clients. Keep increasing your value and improving your skills. Also, having a few long-term clients is way better than constantly looking for work.
Q: Well said! Can you tell us what was the greatest challenge in your professional career?
A: Hm… I think working with a new platform and figuring out what works there and what doesn't is always a bit challenging for me. When I started creating content for LinkedIn, I had to do a lot of research to understand the platform better. I'm glad we have such a great team at AngeLink because the girls helped me a lot during that time. It's also not easy to drive brand awareness and build an online presence but I enjoy doing it!
Q: What is the one thing you wish you knew before starting your career?
A: Oh, I wish I knew how to set a fair price for the work I do. I think a lot of new content creators tend to underestimate themselves and struggle to make a living because of it.