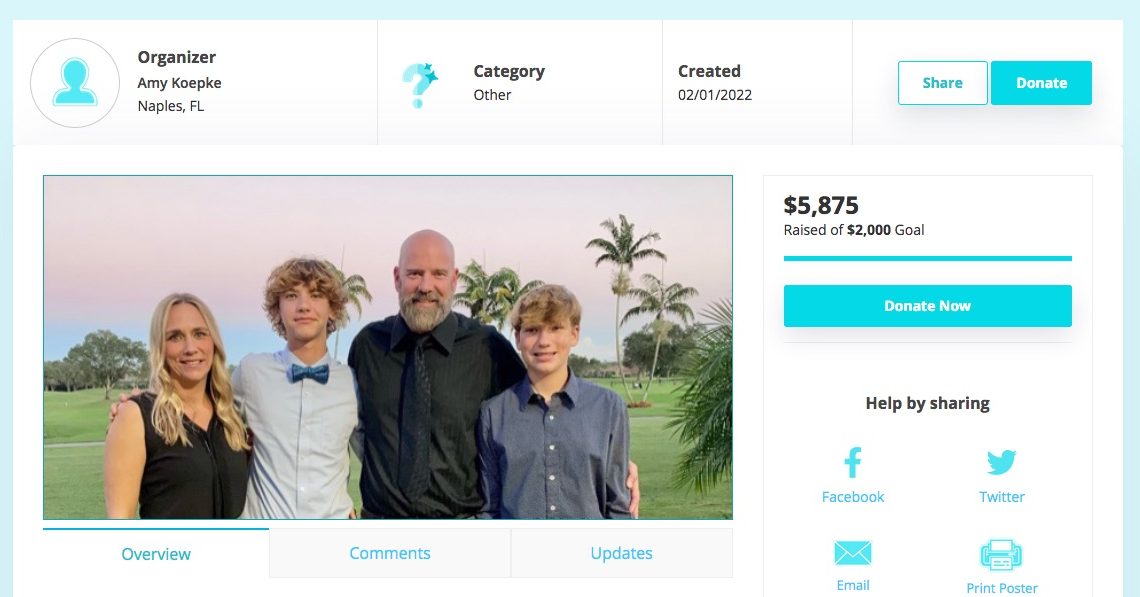 In February you set up an AngeLink fundraiser for your son Owen. Please tell us about him and what led you to do this for him.
Owen has Stargardt's disease, a genetic disease that is causing him to lose his vision. It started in kindergarten. He's now in seventh grade. Our main goal was to raise awareness for Stargardt's Disease.
Five years ago we started a YouTube channel "Outdoors with Owen." With his videos he shares his adventures in fishing and sports. Owen posts his outdoor adventures to show others that no matter one's limits, the only limitation is one's desire to accomplish a goal. For Owen, it is SO important to show others that while challenges may exist that you can do what others can do.
Inspired by the goals of Outdoors with Owen, our cousin Andrew contacted us with the idea of running the Atlanta Publix Marathon (February 27, 2022) to help raise funds to help support Owen. In his training for this race, Andrew has run over 880 miles and climbed nearly 30,000 feet. Andrew self-funded his registration and accommodations.
Andrew made his shirt for the marathon with Owen's special logo – the dots at the bottom are what Outdoors With Owen looks like in Braille.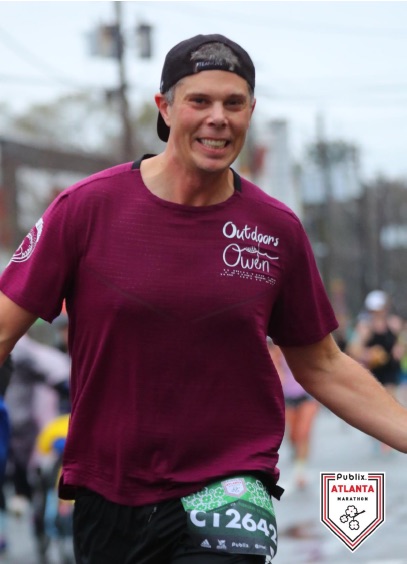 What methods, like social media, email etc did you use to share your fundraiser?
Andrew is not on Facebook or Instagram, he did his sharing via email. He had a bunch of friends that knew he was going to run this race and raise money for a good cause. So his friends were very supportive. And then later he put it on LinkedIn and that brought in a lot too.
I reached out first to my friends and family with email. I didn't know if I wanted to put it out on Facebook. I'm not someone to ask for help, but everybody's been asking us for seven years how they can help. Even if it's just a little something, I thought, I've just got to put it out there.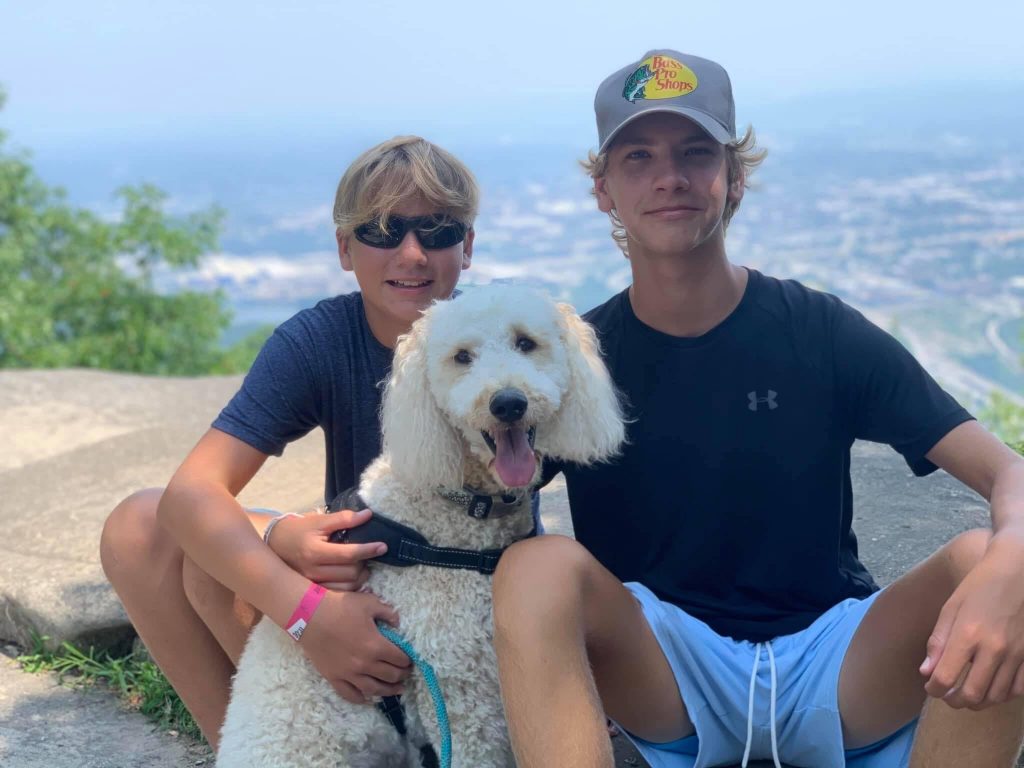 Your fundraising goal was $2,000. How long did it take to reach it?
Oh my gosh, I feel like we hit it in a week! And then it doubled and now it's nearly tripled with 70 donations!
As the campaign was being so successful and you allowed people to support you – how did that make you feel?
It was amazing, but it was almost like a shock at first. Andrew was really into it and so excited. It took me some extra time to really let it sink in. Like wow, all these people are taking the time to support us.
It's a rough time right now in our world and they're still donating! I know a lot of people said if anything was to happen to my child, I just can't imagine…So, it's just so nice for them to reach out and support our son and make comments, like "Keep going, Owen" and "You've got this!" Actually the comments were priceless. No matter how much you are giving, to have the comments — to be able to read to the person they are for is such a gift.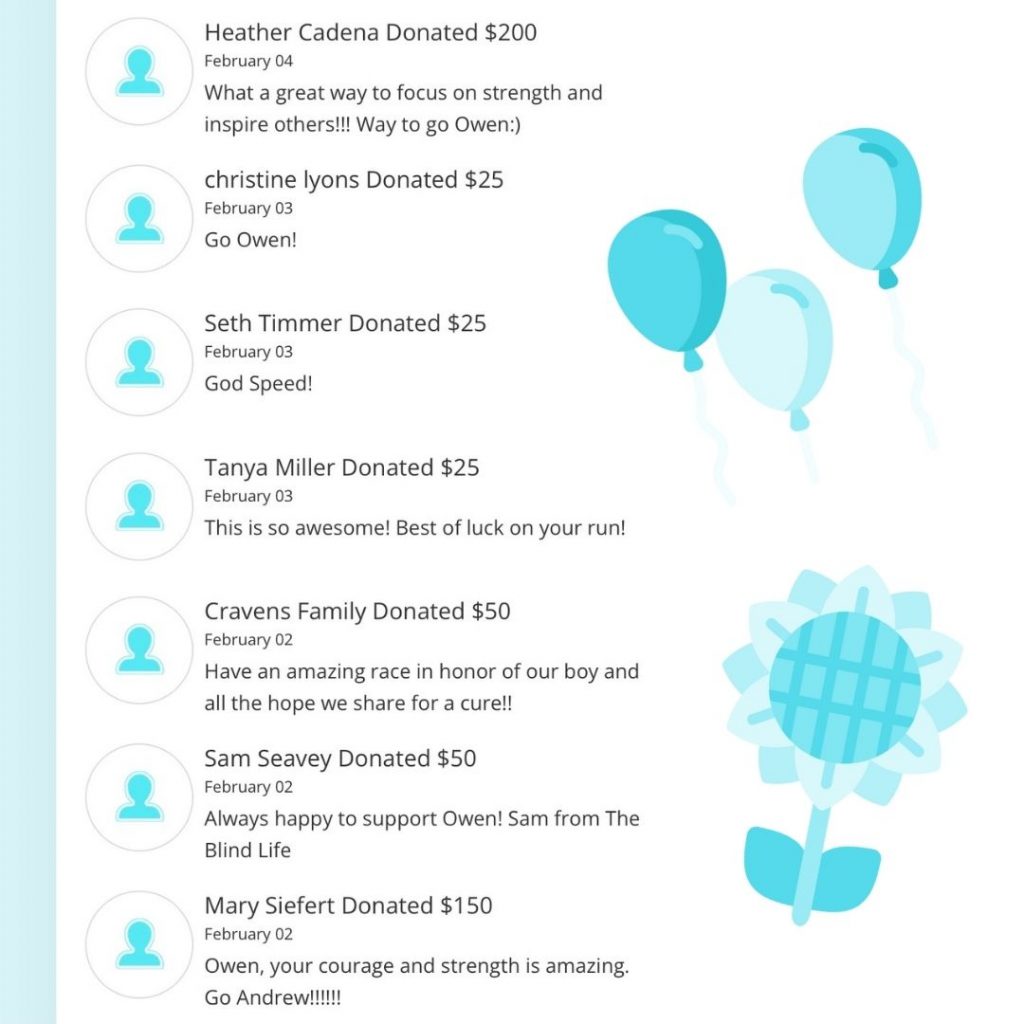 How will you use the funds that were raised?
We will use them to help with his low vision aids like special glasses, lights and technology devices and for Owen to participate in sports camps and special events for the visually impaired.
Last summer we did a mini triathlon camp with Dare2tri in Chicago. Owen and I flew there and he got to ride his first tandem bike and swim and run with his seeing guide, Aiden – and they came in first! And it was just like a freeing experience for him. He finally didn't have to look, he could just go as fast as he wanted and the guide was seeing for him. So the funds will help us provide these opportunities for him.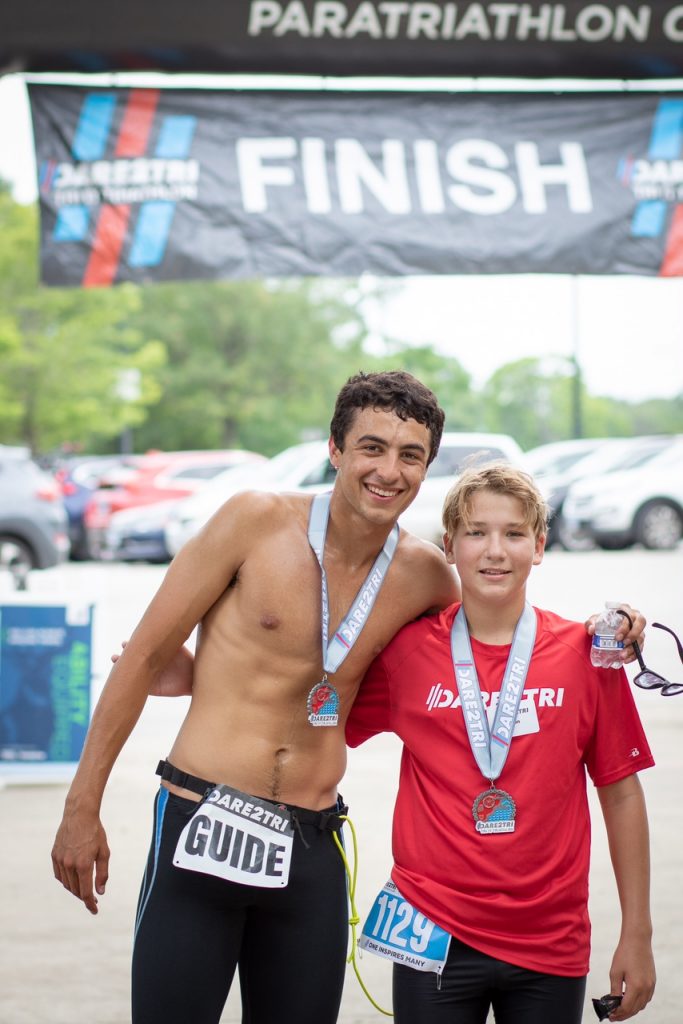 There's another reason why we did this and that is for awareness. That's just as big as making Owen feel so great – building awareness for Stargardt's disease. This is very important to us to help find a cure and help others with vision impairments.
How would you describe your experience with the AngeLink platform?
It was extremely easy and the customer support was so helpful. It was just a great experience.